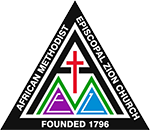 The Varick Memorial African Methodist Episcopal Zion Church is a part of a larger movement. In fact, Methodists around the world owe their theology, structure, and enthusiasm to the founder of Methodism, John Wesley. John Wesley taught about sanctification, which is Holiness. To love God with all one's heart, mind, soul and strength, and to love one's neighbor as oneself. Holiness of one's heart had to find fruit in outward works and social/ community involvement. A fundamental principle of Methodism declared that ALL are equal in the sight of God.
Methodism was first introduced into North Carolina in 1790 by Henry Evans, a minister of African descent and moved northward as a movement. In Philadelphia, a new order of worship introduced in 1787, required church members of African descent to assemble for worship in the balconies and not on the main floor, although those members made considerable contributions to the cost of a newly completed building. In New York City, (now the Methodist Episcopal Church) there were whites insisting that persons of African descent take communion only after all "whites" had been served and black children be baptized after the worship service was over. The practice and the denial of church privileges led to the organization of the first African Methodist Episcopal church in 1796.
Leaders of the A.M.E. (later Zion) Church voted to remove themselves entirely from the Methodist-Episcopal Church due to the treatment of those of African descent. James Varick in 1822 became the first Bishop of the African Methodist Episcopal Church. In 1848 the word "Zion" was added to the title.
Those who belonged to and relied upon the A.M.E. Zion Church were Frederick Douglass, Sojourner Truth, Harriet Tubman and others. During this period the A.M.E. Zion Church became known as the "Freedom Church", a title it retains to this day.
Methodist Doctrine and Beliefs
The Authority of Scripture
Methodists lift up the Bible as the ultimate authority. We affirm that all scripture (in the Canon) is inspired of God and contains everything essential for Salvation. (2 Timothy 3:16)
God's Love for All Persons
We believe that God loves all persons even when they are totally undeserving. God is actively reaching out with His love and forgiving us for turning away from Him. This is God's "grace."
Justification by Faith: Available for All
Methodists believe that the way a person enters into a right relationship with God "is justified" by our faith and not by any good works we may do. The life, death and resurrection Jesus made it possible for every person to be forgiven and put into a new relationship with God.
Sanctification: The Pursuit of Holiness
Continuous growth toward perfect love and scriptural holiness is achieved through Prayer, Bible Study, Worship, the Sacraments (Holy Communion/ Baptism), morality and the confrontation of evil and oppression. Most of all, it is achieved through faith.
The Assurance of Salvation
We believe in the absolute assurance that we have entered into a new relationship with God through the activity of the Holy Spirit. By faith we can be assured through "justification and sanctification" that we have received God's forgiveness and that we are growing toward a perfect state of holiness.
Christian Perfection Through Personal Holiness
After you have been saved by the power of the Holy Spirit, your goal is Christian Perfection. Although this perfect love is achievable in this life it does not make a person infallible nor does it keep a person from involuntary sin.
Christian Perfection Through Social Justice
Methodists must be "Holy" and socially involved to confront evil on every front. (John 15:1-17, Eph. 4:1-16)
Structure of the A.M.E. Zion Church
GENERAL CONFERENCE
This is all of the AME Zion Churches meeting collectively in one place. This conference meets every four years, makes laws, church policy; approves the connectional budget, elects Bishops, General Officers and Connectional Council.
BOARD OF BISHOPS
The Board of Bishops meet twice a year. They give oversight to the Connection between the sitting of the General Conference. They also give direction and supervision to the Connectional Officer/ General Officers. There are 12 sitting Bishops each with Episcopal Districts.
CONNECTIONAL COUNCIL
The Connectional Council meets at the time and place of the summer meeting of the Board of Bishops and exercises executive power over the connectional boards.
Sacraments
There are two Sacraments that we celebrate in our Church: Baptism and the Lord's Supper or Holy Communion. These were ordained by Jesus Himself and are signs of grace and God's goodwill toward us.
Baptism
Baptism is the sign of new life through Jesus Christ. It unites the one baptized with Christ and with His people. By Baptism we participate in ChristËs Death and Resurrection. A personal confession of faith is integral when one is baptized. When an infant is baptized the personal response will be offered at a later moment in life. Infants are brought by parents or guardians in collaboration with the church to bring up the children in the Christian faith.
Baptism is an unrepeatable act. Methodists only baptize once and there are three modes or methods in our church: sprinkling, pouring, and immersion. "Christening" is not a practice we affirm.
Lord's Supper (Holy Communion)
Holy Communion is also a sign of the love that Christians ought to have among themselves; but further is a sacrament of our redemption of Christ's death. All baptized believers, including children may take the sacrament of Holy Communion. The broken bread (wafer) is a symbol of the broken body of our crucified Lord and the wine is the symbol of the blood that flows from wounds of His brow, His hand, His feet and side.
Holy Communion is administered in our Church at least once a month (but can be more). Where there is a means, you are to kneel at the altar symbolizing our humility, faith and trust in God grace. The palm of the right hand should rest on the palm of the left hand when receiving the elements. (Read the Ritual in the hymn book)